Play a round of Golf or Book a stay and get $25 from American Express.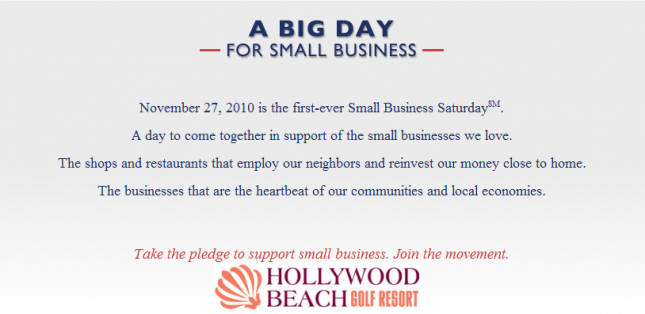 Hollywood Beach Golf and Resort is proud to partner with American Express in their first-ever Small Business SaturdaySM event. American Express has set aside November 27th, as Small Business Saturday. With so many big box chains driving consumers to shop with them on Black Friday. American Express thought it was only fair to create Small Business Saturday, to encourage consumers to support small businesses that not only fuel  economy, but also are a staple of our community.
Now here's your chance to not only play a great round of golf, but also enjoy the satisfaction of doing your part in supporting small business. And you also get $25.00 back from American Express.
To get started,  use your American Express card to do one of the following:
1. Pay for your tee time booking
2. Purchase either a 30 day, 90 day, or an annual Gold or Standard Golf Membership Package for yourself or someone special.
3.  Pay for your stay at our quaint 30 room boutique hotel.
For more info on American Express Small Business SaturdaySM visit http://smallbusinesssaturday.com/ . To discuss resort accommodations packages call 1-888-895-6695, or call our Pro Shop at 1-954-927-1751 for membership info and Tee-Times.

Category : Latest News